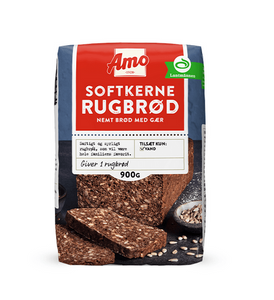 Amo
Amo- Softkerne Rugbrød
Regular price
35,95 kr.
0,00 kr.
Softkerne Rugbrød
Net weight 900 g
Gross weight 1.100 g
Softkerne Rugbrød
Juicy and sour rye bread - will be the favorite of the whole family. Add only water, gives 1 rye bread.
Saftigt og syrligt rugbrød, som vil være hele familiens favorit. Tilsæt kun vand, giver 1 rugbrød.
Indholdsdeklaration
Siktet rugmel*, rugkerner*, hvedemel, solsikkekerner 10%, fuldkornsrugmel*, tørret rugsurdej, hørfrø 4%,
salt tilsat jod, bygmaltekstrakt, brun farin (sukker, rørsukkersirup), tørgær, emulgator (E 491), bygmaltmel, hvedemaltmel.
*indeholder 60% rug. Færdigbagt brød indeholder 40% rug.
---
More from this collection